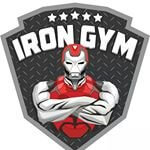 Iron Gym,
There is no fitness center just for big guys but for all who want to work out, improve their physical condition or relax in an active way. Welcome everyone - younger and older, both men and women, active and recreational athletes. Everyone will find themselves with us.
We offer:
- individual training,
- group exercises,
- using of Performance Zone,
- the option to train with a personal trainer,
- exercises indoors as well as outdoors,
- masseuse services.
You are all cordially welcome here.
MULTISPORT CARD
Fitness, HIIT, Box, Minigolf 60min., Yoga, Circuit training
Contacts
02/20782136
Bratislava, Karlova Ves, Janotova 5671/12