WHO ARE WE?
MultiSport entered the Slovakia market in 2015 with a simple mission: We give employees the chance to compensate their workload. That's how we help them find a positive work-life balance and support their vitality and health. We simply believe that happier, healthier employees are more productive. We have built our business from a start-up to a stable company with continued growth. And we still have big plans for the future.
We currently offer corporate clients our MultiSport programme. This concept of long-term motivation for employees to engage in regular exercise and relaxation activities is unique on the Slovakia market. At first we offered just one main product – the MultiSport card. As of 2017 we are officially launching our second product, called MultiSport Health and Sports day.
Benefit Systems Slovakia s.r.o. (MultiSport) is a subsidiary of the Polish company Benefits Systems. You can find her sister companies in Czechia and Bulgaria.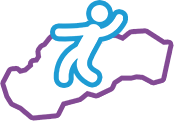 MULTISPORT PROGRAMME IN SLOVAK AND CZECH REPUBLIC
800+
sports and leisure centers form our network of partners
166+
cities are covered by MultiSport – you can use your card there
41 000+
employees get moving and relax with us
WANT TO FIND OUT MORE? GET IN TOUCH!